General Manufacturing, Automotive
From ICE to EV: How EV Manufacturing is Changing the Game
The electric vehicle (EV) transition is underway. While it is early days for the automotive industry, with the percentage of EVs sold in the US currently in the low single digits, there is an unmistakable momentum building toward an electric vehicle future.
As OEMs worldwide announce major EV development and production plans, more and more new EVs will be rolling out of factories. Some manufacturers have even announced that they will be making nothing but EVs at some point in the near future. Tens of billions of dollars are being spent to achieve this ambitious goal, with many important and game-changing advancements taking place for EV manufacturing.
There will be change on the factory floor
Producing EVs in factories formerly used to make internal combustion engine (ICE) vehicles will require the reworking of entire assembly processes. This is largely due to the major design and construction differences between EVs and ICE vehicles. While some "brownfield" factories will mix EV and ICE production (at least for a while), there will also be "greenfield" factories built from the ground up to manufacture EVs. The supply chain will definitely be affected.
EV motors have very few moving parts; they do not require engine oil or transmission fluid. EVs need no exhaust systems, alternators, fuel injectors, or starters. All of these familiar ICE vehicle components will be entirely absent from EV production lines. Because there will be so many fewer parts in an EV, compared to its ICE counterpart, the assembly process will be simplified. Fewer parts also means lower labor costs.
Instead, most EVs are built around their heavy battery packs, which are usually placed low under the vehicle floor to lower the center of gravity. The battery packs also serve as structural members of the chassis, adding strength and rigidity. Because of their weight and bulk, manufacturers will prefer to have these battery packs built and assembled as close to their assembly lines as possible. Many OEMs have announced plans to either build their own battery plants or create JVs with battery producers. Doing this will have the added benefit of insuring adequate supplies of batteries as industry-wide production ramps up, due to increased EV adoption over time.
New developments in battery technology are predicted to lead to lower costs for battery packs. This will allow for more desirable EVs that cost less while providing longer range. Another benefit of current EVs is that their grid to vehicle efficiency is currently 70% to 80%, which is double the efficiency of the lead-acid batteries used to start and power ICE vehicles.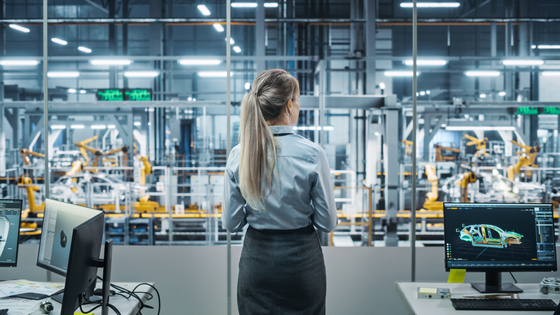 How do we go about this change in the way cars are built?
As EVs become a larger and larger proportion of the entire vehicle mix, production efficiency will be paramount. Tesla is leading the way. Volkswagen CEO Herbert Diess recently revealed that it takes VW about 30 hours to produce one of their new ID.3 EVs, whereas Tesla needs just 10 hours to make a single Model 3. That is a huge difference.
What solutions will help OEMs to catch up and surpass the world's most valuable car company?
Tesla has achieved this major advantage because it has never had to deal with many of the issues facing legacy ICE automakers who now must convert to EVs. Instead of multiple processors spread throughout the vehicle, each controlling individual systems, Tesla has integrated its electronic architecture into one advanced unit that controls all vehicle systems. Its revolutionary heat pump design uses less energy to heat the vehicle interior in cold temperatures, improving its vehicles' range.
For its Model Y body, Tesla is now using a massive aluminum casting for the rear of the body structure. This casting replaces the 70 different metal parts that are used in the similar Model 3. To do this, Tesla purchased the world's largest casting machine. Future plans involve going to a front casting and a rear casting that will be connected to the central battery pack casting of the Model Y, producing a rigid and quickly assembled structure.
While these Tesla innovations are significant, there are other areas where OEMs can achieve efficiency and reduce costs in their EV production processes:
Flexible Cell Manufacturing, which allows the efficient mixing of EVs and ICE vehicles on a single production line
Designing EVs to offer multiple motor and power options on the same vehicle
Simplified powertrains that can be used across multiple models
Freedom from vehicle emissions regulations and the costs required to conform
Contract EV manufacturing is becoming an option for startups
EV assembly is a much simpler process than that used for ICE vehicles. This is why many EV startups that don't have the resources to set up assembly plants are turning to contract manufacturers. Magna Steyr will be producing the new Fisker Ocean EV, while Foxconn is slated to produce Lordstown Motors' EV pickup truck and Fisker's upcoming Project Pear EV.
In theory, this will let the EV startup companies focus on design differentiation, marketing, sales, and customer service, while the contract manufacturer handles all aspects of vehicle manufacturing and assembly. This "asset light" approach certainly works for Apple and the iPhone, but it remains to be seen if the same benefits will translate to the EV realm.
Grounding issues are very important in EV construction
EVs, with their high voltage batteries and charging systems, must protect their drivers and occupants from all potential electrical hazards with the most robust and consistent grounding. To help combat this challenge, Tucker® No-Hole Ground Studs outperform all available solutions, allowing the highest current levels while providing the most consistent resistance level of less than 100 µΩ over the lifetime of vehicle, with the lowest dispersion of resistance values.  
Tucker No-Hole Ground Studs in steel can be welded to all types of automotive steel grades, including advanced High and Ultra high strength materials. In addition, we have a range of Aluminum Ground studs which can be welded to all aluminum grades. For special surface conditions, we offer our Tucker CleanJet plasma cleaning process. This assures our customers achieve extremely clean surfaces, which provide ideal conditions for top-quality stud welds on aluminum. 
The Tucker stud welding process has advanced monitoring capabilities and instant feedback to monitor and store all aspects of the welding process for each car body ID and stud ID. OEMs will have to prove that every grounding stud was welded correctly to every car body in order to provide the best conductivity. Providing full data transparency in the body-in-white environment is the key to fulfilling upcoming safety regulations in various countries.
The EV transition will become the EV shakeout
With Tesla looming as the 800-pound gorilla and first successful mover in the EV space, there will be plenty of competition for it to reckon with in the next several years. Who will become its significant competitors and who will not survive?
Legacy OEMs who have built their reputations with ICE vehicles will need to adapt to the new realities of a world of vehicle production that will increasingly be driven by battery electric cars, trucks, and SUVs. There will likely be some interesting joint ventures and other types of partnerships that will come to pass, allowing these manufacturers to defray the massive cost burden of this transition through increased production efficiencies. The agreement between GM and Honda to share GM's Ultium platform is only the beginning of this trend.
A host of new EV startups will try a variety of different economic models to create and sell their new electric vehicles. Contract manufacturing, direct sales, and all-inclusive subscriptions that include insurance and charging are some of the strategies that will be tried out in the marketplace.
Just as the early 1900s saw a huge number of auto manufacturers dwindle down to a few strong players, the EV transition will result in winners and losers. All of these EV producers, whether they have been around for over a century or have yet to produce their first vehicle, will have to execute their EV plans flawlessly. Appealing design, top-quality assembly processes, the right price, and a positive ownership experience will be the price of entry into tomorrow's EV-dominated world of automotive transportation.
Whether you're a tenured OEM, or at the onset of your journey toward an electric future, our team of experts is here to help you navigate the road ahead – with EV manufacturing solutions customized to meet your facility's unique goals and needs.