careers
Stepping Up, Even When It's 'Not Your Job'
College Internship Turns Into Leadership Role
by Elizabeth Walker, Materials Manager, STANLEY® Engineered Fastening, Danbury, Connecticut
If you asked me one year ago where I would be today, I would never have imagined it would be living across the country because of a career opportunity; but I am so thankful I accepted the challenge of a new role and took a leap of faith!
It has definitely been a whirlwind few years. I was a Purchasing Intern with STANLEY® while I was attending college, and I was hired directly after graduation. I worked as a Buyer within our automotive division in Chesterfield, Michigan, not far from my alma mater, Michigan State University. With responsibilities servicing a few different business units within STANLEY® Engineered Fastening, I was able to learn quickly about multiple different product lines and operations. As of a few months ago, I have been promoted to a leadership role as a Materials Manager and living in Danbury, Connecticut. I am very fortunate to have the opportunities to continue learning and developing at STANLEY.
As a Materials Manager to our industrial division, I manage five planners and production schedulers who work for our Danbury manufacturing facility. I also support our Hopkinsville, KY operations and work with a team there.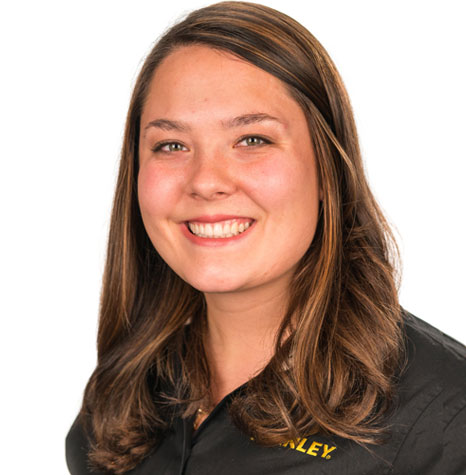 The most essential skill I have gained while working for STANLEY® Engineered Fastening has been learning to be "boundaryless" and adapting to change. There have been times where organizational changes have challenged me and I had to focus my efforts across multiple product lines or business units. Change is constant, inevitable, and absolutely necessary no matter the conditions. If you are a part of an organization that does not want to change, you should be evaluating your goals as an individual and as an organization. Old ways will not open new doors.
Even more importantly, I have learned it is never "not my job." In fact, the best career opportunities I've had have come about because I stepped up even when it was really "not my job." Going above and beyond will always pay off whether you see it now, or three years down the road.
Change is constant, inevitable, and absolutely necessary no matter the conditions…Old ways will not open new doors.

– Elizabeth Walker, Materials Manager, STANLEY® Engineered Fastening
For being early in my career, I am truly very thankful for the opportunities I have been given at STANLEY® Engineered Fastening. I have been trusted to lead and execute in a team environment, make critical business decisions that impact the organization, and ultimately strengthen and empower myself as an individual.