Automotive
The Impact of IoT Industrial Solutions for EV Manufacturing
The ongoing transition to electric vehicles (EVs) is accelerating. Vehicle manufacturers worldwide, both legacy OEMs and new EV startups, have committed to spending billions of dollars to design, manufacture, and market a new generation of electric vehicles. The overall number of components in EVs are fewer, however the procedure to assemble these individual components is more complex and sensitive to quality. In addition, the need for agility in production and ramp-up periods has never been as high as now.
While more and more of these EVs will be arriving in the marketplace over the next several years, their actual sales volumes have yet to be determined. However, the huge capital outlays to produce them will have to be spent. This means that OEMs must run their EV production plants as efficiently and reliably possible, so they can realize a faster return on their EV investment. This efficiency will enable a more financially successful journey from today's low EV sales levels to the all-electric future that has been promised to us.
This is where the Internet of Things, or IoT, becomes a solution to EV production efficiency, quality and reliability demands. The relative novelty and difference of EV production vs. that of conventional vehicles creates additional complexity and demand for traceability for the manufacturer. Our smart devices are capable of complex diagnostics yet are very easy to use. They can orchestrate with each other because they are intelligent, connected, and secure. This is all supported by cloud technology that provides the analytics that give you a great deal of insight. The result is agility with full traceability, meaning that 100% of the work being done is being monitored and processed.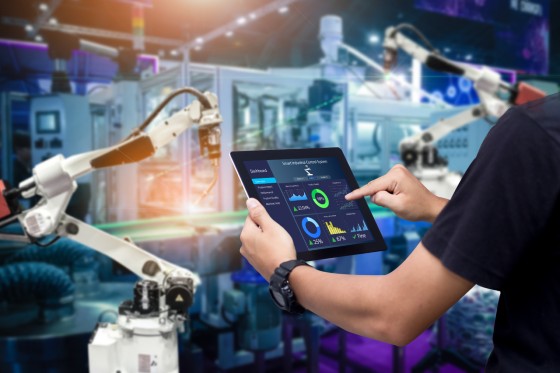 How IoT is used in industrial sectors and manufacturing
The Industrial Internet of Things, also known as IIoT, enhances industrial and manufacturing processes through the use of smart sensors and actuators, connectivity, and cloud-based applications. An industrial IoT platform supports a variety of analytics models to process the stream of data and messages from these smart machines to provide actionable insights about the manufacturing process.
IoT industrial solutions utilize a network of connected and intelligent devices that collect, analyze, and exchange data. This data is then sent to a communications system that converts it into usable information about the operation of various pieces of machinery. IoT solutions for manufacturing allow for connectivity between assets, monitoring them both individually and as an integrated system.
The data-driven benefits of IoT solutions for manufacturing are many. They include:
Full traceability (instead of limited reactive sampling), which enables:


Better quality control

Improved manufacturing quality and safety
Supply chain efficiency and traceability
Remote diagnostics and troubleshooting, which enables:


Limited experts of EV field globally to get to many factories in seconds


Real-time insights, enabling:


Proactive and real-time corrective actions

Agile change management and flexible manufacturing setup

Predictive maintenance

Maintaining competitiveness

Achieving greater speed to market
Cost savings

Improved productivity


Human-Centric Automated Analytics, enabling:


Augmentation of the intelligence of experts

Searching for patterns of interest in big data

Addressing the importance, volume and velocity of complex data being produced

Enabling operator guidance paradigm while guaranteeing small margin of error
How is EV manufacturing specifically being impacted?
Compared to the manufacturing of internal combustion engine (ICE) vehicles, making EVs is a relatively new manufacturing environment. OEMs including the battery production will create an even wider range of companies with different levels of experience. The benefits of IoT solutions for EV manufacturing, using advanced analytics and connectivity, can significantly reduce the costs of complex manufacturing in new environment and speed up response to market demand. The EV newcomers have the ability to implement IoT faster than traditional automakers, who may be burdened with legacy manufacturing IT structures, closed-ecosystems, older equipment with minimum connectivity.
This is where Stanley's ELU Digital Platform and new Unified Platform Architecture (UPA) can help. UPA provides standardized, connected hardware across your Tucker equipment (both SPR and SWS). Paired with ELU, the analytics platform which enables monitoring and analysis of your entire fleet and plants from a single point, you'll receive predictive maintenance alerts and actionable data insights to help you maximize efficiencies and reduce downtime. Adopting to changes in the plants, will be done in seconds and no variation in quality or reliability goes unnoticed.
EVs are less complex to build
It is true that EVs are simpler devices than ICE vehicles because they require fewer parts to build. But ICE vehicles typically have their processing power spread across many separate systems. In contrast, EVs are built on a single electronic platform, with clusters of computers interacting with each other. This results in better integration with the assembly process IoT, making for simplified vehicle assembly, immediate knowledge of any problems and the exact fixes needed, and enabling predictive maintenance of the assembly equipment.
EV batteries require sophisticated monitoring
The battery packs used in EVs are complex mechanisms requiring diagnostic monitoring of their charge level, performance, and state of health. This is necessary because a visual inspection will not usually reveal any electrical faults within the battery. IoT solutions for manufacturing can provide this type of monitoring, identifying battery problems on the production line before the pack is installed in a vehicle.
New EV startups have pressure to perform
Because new EV startups may not have sufficient cash flow to endure a long manufacturing ramp-up, IoT industrial solutions can be used to minimize the issues that can cause production delays before Job One comes off the assembly line.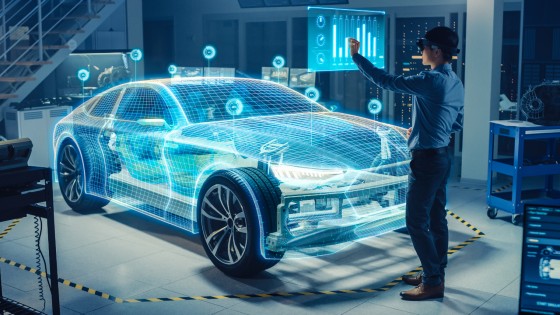 Creating EVs requires reworking of previous systems anyway, so is now the best time to implement IoT systems?
The answer is yes! Due to the increased monitoring needs of EVs (as illustrated by the battery example above), along with the many changes that the OEMs are making to switch from making ICE vehicles to EVs, now is indeed the time. Implementing IoT solutions for manufacturing makes eminent sense, and for many good reasons:
Data alone is not enough
We have been hearing for a long time that data is king, but without the translation of that data into insights, and those insights into impacts, data alone is not sufficient. The major players in the marketplace are no longer interested in warehousing their data. They want more.
Advanced IoT industrial solutions are returning the focus of manufacturing leadership back where it belongs – to the people. After all, it is people who drive successful industrial IoT projects, act on the insights gained, and maximize the impacts on their businesses.
Implementing a data-driven industrial IoT platform helps to mitigate the risks presented by the production of an all-new vehicle and the rush to get it to market. Such a systematic approach benefits decision making, diagnostics, troubleshooting, and dealing with quality issues.
ELU® delivers the equipment insights our customers need
At Stanley Black & Decker we set out to be not just a leader, but to embrace technological change to become a disruptive force among global diversified industrials and support our customers in their goals of achieving world-class manufacturing. We have developed an innovation ecosystem and have been applying advanced technologies across the spectrum to our products, processes, and business models.
ELU®, Stanley Black and Decker's new value-added service offering, is data-driven intelligence in real-time to deliver the equipment insights our customers need. Stanley can now offer customized configurations that integrate next-generation smart tools and automation systems with new data collection software and analysis resulting in actionable equipment insights.
What could happen if we don't?
There is a truly gigantic amount of capital being invested in the transition from ICE vehicles to EVs. The unfortunate reality is that most consumers are on the fence, waiting to see whether the coming new generation of electric vehicles will meet their needs and their budgets. If the automotive industry, both the legacy OEMs and the EV startups, do not do everything right as they prepare to produce and release these new vehicles to the public, they could fail, with tremendous financial consequences.
EV producers will need to maximize their agility and be able to adapt to changes in demand. IoT industrial solutions, combined with analytics and process digitization of your processes, will help them to operate successfully – and profitably – in this brave new world of electrification that is upon us.
Ready to discuss your EV project? Our electrification experts are here to help.